ENGLISH
Censor Board is back at what it does the best-chop off several parts of a film at the pretext of making it more 'Sanskaari'. Just a few days before the official release of Imtiaz Ali's film Love Aaj Kal, the Central Board of Film Certification (CBFC) decided to chop off certain scenes from it.
No film is safe or protected from the scissors of the Central Board of Film Certification (CBFC). Love Aaj Kal was the latest focus of the certification body which forced a number of cuts into the film.
Love Aaj Kal revolves around two timelines, set in 1990 and 2019 with Kartik Aaryan being the link between them. In 1990 he is seen as a schoolboy trying to manage a relationship with Arushi Sharma. In 2019 he is seen getting into a relationship with Sara Ali Khan who is stuck between prioritizing her career or her relationship.
Love Aaj Kal directed by Imtiaz Ali is a spiritual sequel to his film of the same name from 2009. The upcoming sequel stars Kartik Aaryan, Sara Ali Khan, Randeep Hooda, and Arushi Sharma. The film is slated to release on February 14 on the occasion of Valentine's Day.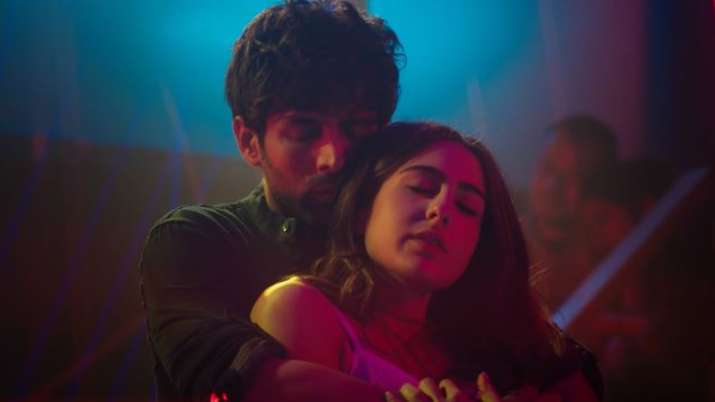 HINDI
पिछले काफी समय से इम्तियाज अली के डायरेक्शन में बनी कार्तिक आर्यन और सारा अली खान की फिल्म 'लव आज कल' चर्चा में है। अब यह फिल्म फाइनली रिलीज के लिए तैयार है और इसकी स्टारकास्ट फिल्म के प्रमोशन में बिजी है। फिल्म के ट्रेलर को पहले ही काफी पसंद किया गया है लेकिन दर्शकों को इस बात की निराशा हो सकती है कि ट्रेलर में दिखाया गया सारा और कार्तिक का लव मेकिंग सीन शायद फिल्म में न दिखे।
रिलीज से पहले फिल्म को सेंट्रल बोर्ड ऑफ फिल्म सर्टिफिकेशन (सेंसर बोर्ड) ने पास कर दिया है लेकिन खबर है कि बोर्ड ने मेकर्स से कहा कि फिल्म में से कुछ सीन हटा दिए जाएं। रिपोर्ट्स के मुताबिक फिल्म में सारा और कार्तिक के कुछ लवमेकिंग सीन हटाने या उनकी लंबाई छोटी करने के लिए या उन्हें बदलने के लिए कहा गया है।
कार्तिक-सारा का किसिंग सीन फिल्म से हटा दिया गया है और बोर्ड के सदस्यों ने प्रड्यूसर्स से इंटिमेट सीन्स को ब्लर करने के लिए कहा गया है। इसके बाद फिल्म को सेंसर बोर्ड ने यू/ए सर्टिफिकेट दिया है। बता दें कि फिल्म रणदीप हुड्डा और आरुषि शर्मा महत्वपूर्ण किरदारों में दिखेंगे और यह 14 फरवरी को रिलीज होने जा रही है।