ENGLISH
Salman Khan releases his film every year on the occasion of Eid. This year Salman's film 'Radhe: Your Most Wanted Bhai' is going to be released on the occasion of Eid. Salman has started shooting for this film after the release of Dabangg 3 and recently a video from the set of this film is going viral in which Salman can be seen.
In this video, Salman Khan is walking on the road and his fans are trying to take a selfie with their favorite superstar. Salman can be seen in jeans and a black T-shirt in this video. Many fans believe that Salman is seen in the look of the film Wanted in this video. Let me tell you that Wanted was the first film in which Prabhu Deva and Salman worked together. With this film, a new avatar of Salman was revealed and since this film, he has consistently given back to back hits.
Talking about the Workfront, Salman Khan's previous film was Dabangg 3. Stars like Sonakshi Sinha and Kicha Sudeep were seen with her in this film. The film did average at the box office. Apart from this, his film Bharat also performed well at the box office. Apart from Dabangg 3, Salman is working with Prabhu Deva once with the film Radhe. Apart from this, after the film Bharat, Salman is working with Disha Patni once again.
HINDI
सलमान खान हर साल ईद के मौके पर अपनी फिल्म रिलीज करते हैं. इस साल सलमान की फिल्म 'राधे: योर मोस्ट वॉन्टेड भाई' ईद के मौके पर रिलीज होने जा रही है. सलमान ने दबंग 3 की रिलीज के बाद इस फिल्म की शूटिंग शुरु कर दी है और हाल ही में इस फिल्म के सेट से एक वीडियो वायरल हो रहा है जिसमें सलमान को देखा जा सकता है.
इस वीडियो में सलमान खान रोड पर चल रहे हैं और उनके फैंस अपने फेवरेट सुपरस्टार के साथ सेल्फी लेने की कोशिश कर रहे हैं. सलमान इस वीडियो में जींस और ब्लैक टी-शर्ट में देखे जा सकते हैं. कई फैंस का मानना है कि सलमान इस वीडियो में फिल्म वॉन्टेड के लुक में नजर आ रहे हैं. बता दें कि वॉन्टेड पहली ऐसी फिल्म थी जिसमें प्रभु देवा और सलमान ने साथ काम किया था. इस फिल्म के साथ ही सलमान का नया अवतार सामने आया था और इस फिल्म के बाद से ही उन्होंने लगातार बैक टू बैक हिट फिल्में दी हैं.
वर्कफ्रंट की बात करें तो सलमान खान की पिछली फिल्म दबंग 3 थी. इस फिल्म में उनके साथ सोनाक्षी सिन्हा और किच्चा सुदीप जैसे सितारे नजर आए थे. इस फिल्म ने बॉक्स ऑफिस पर औसत प्रदर्शन किया था. इसके अलावा उनकी फिल्म भारत ने भी बॉक्स ऑफिस पर ठीक-ठाक प्रदर्शन किया था. दबंग 3 के अलावा सलमान एक बार फिल्म राधे के साथ प्रभु देवा के साथ काम कर रहे हैं. इसके अलावा फिल्म भारत के बाद सलमान एक बार फिर दिशा पाटनी के साथ काम कर रहे हैं.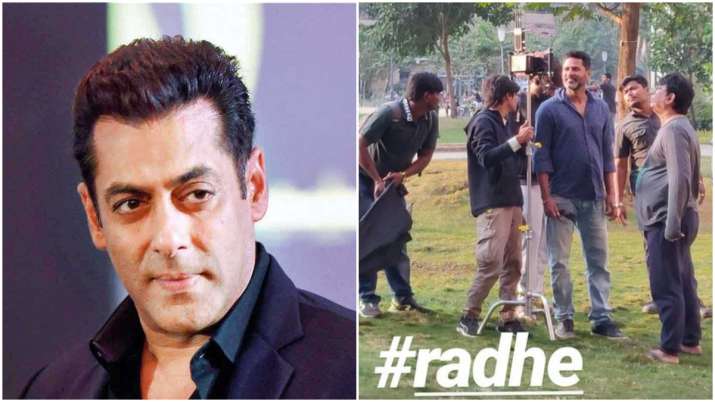 Latest Video: #SalmanKhan on the sets of #Radhe!!

— Salman Khan FC (@SalmansDynamite) March 3, 2020