ENGLISH
Bollywood actors Tapsee Pannu and Bhumi Pednekar are soon to be seen in Anurag Kashyap's film 'Saand Ki Aankh'. At first, its name was something else but has now been changed. The duo will be seen in the role of the world's oldest sharp shooter, Chandrao Tomar and Prakash Tomar.
The shooting was completed some time ago. Several posters of the film have already surfaced. Then there's another motion poster that we're going to show. The teaser of the film is going to come out to the public soon.
Tapsee Pannu has shared a video on her Twitter showing its teaser. As you can see, at the beginning of this video of Tapsee Pannu, there are a lot of medallions on the doorstep. Then the door opens and Tapsee Pannu and Bhumi Pednekar are seen in the roles of Chandrao Tomar and Prakash Tomar. It also says that Daddies will not be welcome and are informed of the teaser release tomorrow. The actresses look looks very powerful, making the film look even stronger.
Saand Ki Aankh film is based on the lives of the world's oldest 'shooters' grandmother, Prakash Tomar (82) and Chandrao Tomar (87), who live in Baghpat, Uttar Pradesh. In the film, 'Mukkabaz' Fame actor Vineet Singh is also in the lead role. The film's directing writer Tushar Hiranandani is. Anurag Kashyap is the producer of Nidhi Parmar and Reliance Entertainment Film. The film will be released on Diwali, though Makers has not yet revealed the release date.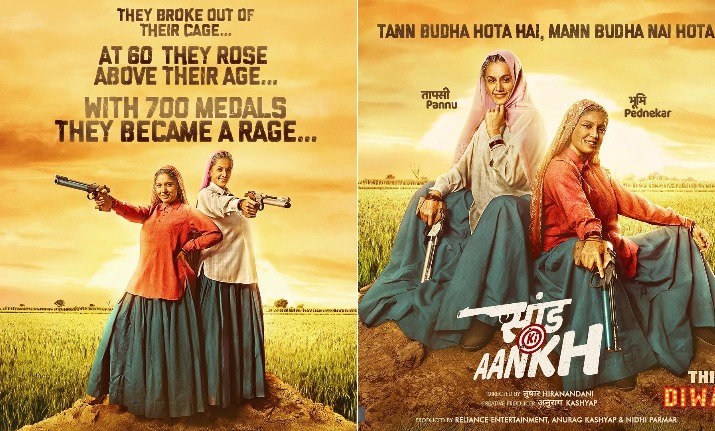 HINDI
ट्रेलर रिलीज़ से एक दिन पहले फिल्म 'सांड की आंख' का मोशन पोस्टर रीलीज़ हो गया है।
तापसी पन्नू ने अपने ट्विटर पर एक वीडियो शेयर किया है, जिसमें इसके टीजर की जानकारी दी है।
इस फिल्म में पन्नू और भूमि दुनिया की सबसे बुजुर्ग शार्प शूटर चंद्रो तोमर और प्रकाशी तोमर की भूमिका में नज़र आएंगी।
बता दें कि सांड की आंख फिल्म उत्तर प्रदेश के बागपत की रहने वालीं दुनिया की सबसे बुजुर्ग 'शूटर्स दादी' प्रकाशी तोमर (82) और चंद्रो तोमर (87) के जीवन पर आधारित है।
फिल्म में अभिनेता विनीत सिंह भी मुख्य किरदार में हैं, फिल्म का निर्देशन लेखक तुषार हीरानंदानी कर रहे हैं। फिल्म के निर्माता अनुराग कश्यप, निधि परमार और रिलांयस एंटरटेनमेंट हैं।