ENGLISH
Telugu film Saaho, directed by Sujeeth, is one of the most anticipated films in 2019.The film starring Prabhas, Sharddha Kapoor and Neil Nitin Mukesh has been in the making for nearly three years and is all set to see the light of the day in August.
It was rumoured that Saaho's release might get postponed yet again. However, the makers have confirmed the film's release date with a brand new poter. The film, produced by UV Creations, will hit the theatres worldwide on August 15, 2019 on Independence Day.
In the poster, Prabhas is seen racing in his luxury bike with a Bluetooth earphone. It looks like the shot is from one of the action sequences that were shot near Burj Khalifa in Dubai. The makers had shelled out nearly Rs 90 crore for this stunt sequence.
The first poster of Saaho hit the Internet last week. The poster featured a close-up shot of Prabhas, who looked intense.
Saaho will be a high-octane action drama, which also features Sharddha Kapoor, Mandira Bedi and Arun Vijay in pivotal roles. The film marks the Telugu debut of Sharddha Kapoor.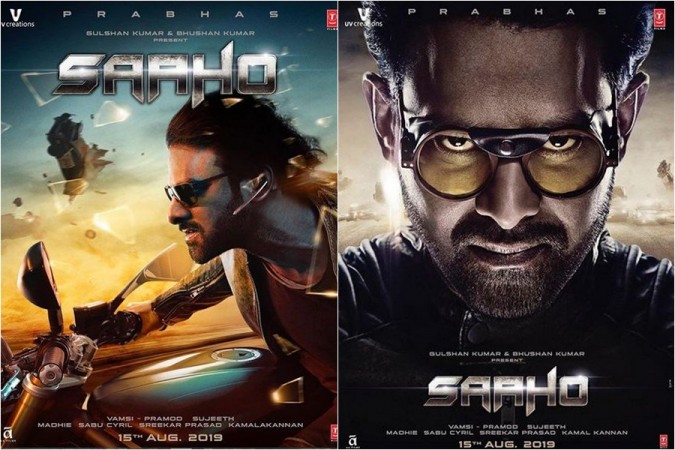 HINDI
इंडियन सिनेमा का इतिहास बदलने वाली फिल्म 'बाहुबली' के स्टार प्रभास को लेरक लोगो में काफी दीवानगी है. अब जल्द ही हमारे 'बाहुबली' बिग बजट एक्शन फिल्म 'साहो' में नज़र आने वाले है. इस फिल्म को लेकर जितने फैन्स बेकरार है उतने ही प्रभास भी उत्साहित है. अब प्रभास ने फिल्म का दूसरा पोस्टर रिलीज़ करके सनसनी मचा दी है.
सोमवार को 'साहो' के निर्माताओं ने इस फिल्म का नया पोस्टर जारी किया है. इस नए पोस्टर में प्रभास जबरदस्त एक्शन मूड में नज़र आ रहे है. प्रभास के दीवाने फैन्स इस नए लुक को काफी पसंद कर रहे है. सामने आते ही यह पोस्टर तेजी से वाइरल हो गया है.
इस एक्शन फिल्म का निर्देशन सुजीत ने किया है. तो वही भूषण कुमार, करण जौहर, वी वामशी कृष्ण रेड्डी और प्रमोद उप्पलपति इस बिग बजट फिल्म के प्रोडूसर है.
यह धमाकेदार फिल्म स्वतंत्रता दिवस यानि 15 अगस्त को रिलीज़ होने जा रही है. वहीं इस दिन फिल्म के सामने बॉलीवुड खिलाडी अक्षय कुमार की फिल्म 'मिशन मंगल' और जॉन अब्राहम की फिल्म 'बाटला हाउस' भी टककर देने के लिए रिलीज़ हो रही है.
फिल्म में प्रभास के अपोजिट श्रद्धा कपूर है. इसके अलावा अरुण विजय, सम्पत राज, निल नितिन मुकेश, जैकी श्रॉफ, मंदिर बेदी जैसे कलाकार दमदार किरदार में दिखाई देंगे। प्रभास की ये फिल्म हिंदी समेत तमिल, तेलुगु भाषा में भी रिलीज़ होगी।