ENGLISH
The official trailer of Karthik Aaryan, Bhumi Pednekar, and Ananya Pandey starrer Pati Patni Aur Woh is out.
A remake of the 1978 cult favourite of the same name, the trailer ups the comedy game with classic one liners and the addition of supporting cast like Aparshakti Khurana.
Some cliches prevail as does the typical ploy of Kartik Aaryan being a middle class working married man who is confused about his married life.
Karik plays Abhinav Tyagi/Chintu Tyagi in the film while Ananya Pandey plays Woh, with a name of Tapasya.
Bhumi Pednekar plays the wife and the love triangle situations in the trailer reveal not much but a tension that will play out well in the comedy film.
Two classic songs have been recreated for Pati Patni Aur Woh, one which introduces Ananya, and the other a party song, "Akhiyon Se Goli Mare" and "Dheeme Dheeme" among others.
Confusion ensues as Woh starts to become part of Chintu Tyagi's life, and the Patni looks confused.
A classic case of comedy triangles going haywire, Pati Patni Aur Woh looks like an entertainer.
Makers had also shared a new poster of the film ahead of its trailer release.
Directed by Mudassar Aziz and produced by Bhushan Kumar, Renu Ravi Chopra and Krishan Kumar, Pati Patni Aur Woh is slated to release on 6 December 2019.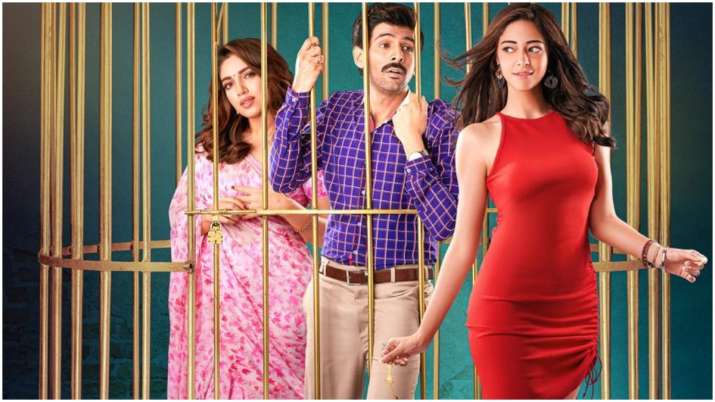 HINDI
कार्तिक आर्यन, भूमि पेडनकर और अनन्या पांडे की फिल्म 'पति, पत्नी और वो' का ट्रेलर रिलीज हो गया। इस ट्रेलर में चिंटू त्यागी बने कार्तिक आर्यन बेहद क्यूट लग रहे हैं। वहीं उनकी पत्नी वेदिका के रोल में नजर आ रही हैं भूमि पेडनेकर, जो अपने हाव भाव और अभिनय से आपका दिल जीतने को तैयार दिख रही हैं। वहीं अनन्या पांडे हॉट अंदाज में फिल्म में तड़का लगाती दिखने वाली हैं।
पति,पत्नी और वो पुरानी फिल्म की रीमेक है। इस फिल्म में नयापन ये है कि पुरानी वाली फिल्म में वाइफ को बीमार बताया जाता था इस फिल्म में पत्नी के अफेयर के बारे में झूठ बोलते पति को दिखाया गया है। फिल्म में कई चुटीले संवाद हैं तो कई गानों को रीमिक्स करके इस्तेमाल किया गया है। जैसे आप टोनी कक्कड़ का धीमे-धीमे गाना और गोविंदा का गाना अंखियों से गोली मारे का इस्तेमाल किया गया है। ट्रेलर से तो लग रहा है कि फिल्म काफी मजेदार होने वाली है।