ENGLISH
Neha Kakkar is undoubtedly the most successful and loved Bollywood singer today. She enjoys such a huge fan base that every time she comes up with a new video, fans make sure they make it an instant Blockbuster. On Tuesday, the hit singer released another song with Punjabi singer Maninder Buttar called Sorry song. The moment this song hit YouTube, Neha Kakkar's fans flooded it with millions of views and comments. Within a few hours of the release of the Sorry song, it has earned 4 million views on YouTube.
Neha Kakkar's latest song shows a cute love story between the singer and Maninder Buttar which is much-admired by the fans. Not just the peppy beats and lyrics, the song has also attracted a lot of attention because of Neha Kakkar's killer dance moves. Neha Kakkar is not just a brilliant singer but loves to dance and act as well. Her dance moves often break the internet and people go crazy about her.
For the unversed, Neha Kakkar started her singing career as a contestant on the singing reality show Indian Idol, however, she couldn't make it to the finals. On the other hand, she is the only singer in the world who became the judge on the same reality show in which she participated. Neha Kakkar judhes Indian Idol 10 along with Anu Malik and Vishal Dadlani. Fans much loved the singer as the judge on the reality show and she even revealed her relationship with Himansh Kohli on the same show. Soon after she announced her relationship with Himansh, the duo broke up.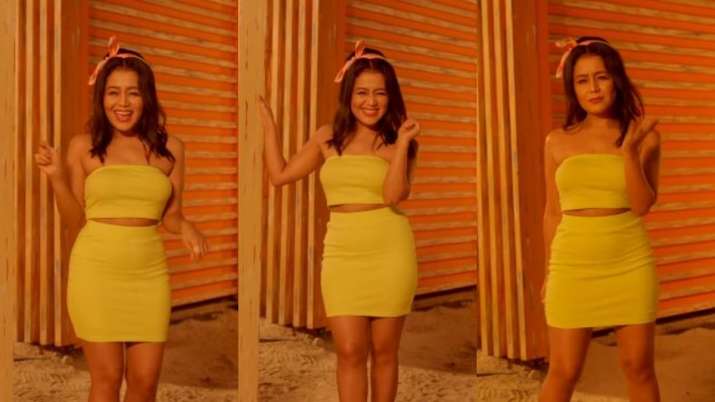 HINDI
बॉलीवुड की चुलबुली सिंगर नेहा कक्क़ड जब भी कोई नया सांग रिलीज़ करती हैं तो उनके फैंस इसे ब्लॉकस्टर बनाने में कोई कसर नहीं छोड़ते हैं. नेहा कक्क़ड ने पंजाबी सिंगर मनिंदर बटर के साथ मिलकर नया गाना 'सॉरी सॉन्ग' रिलीज कर दिया है. यूट्यूब पर इस गाने को अब तक 3 मिलियन से ज्यादा व्यूज मिल चुके हैं. गाने के बोल और इसकी छोटी सी लव स्टोरी फैंस को खूब पसंद आ रही है.
नेहा और मनिंदर दोनों ने गाने को अपने सोशल मीडिया अकाउंट पर रिलीज किया है. बता दें कि नेहा, मनिंदर से पहले भी कई पंजाबी सिंगर्स जैसे, जस्सी गिल और बिलाल सईद के साथ गाने बना चुकी हैं.
नेहा ने इंडियन आइडल से अपने करियर की शुरुआत बतौर कंटेस्टेंट की थी. नेहा को उनके यूट्यूब वीडियोज ने फेमस किया और उसके बाद नेहा अपने करियर की ऊंचाइयों पर पहुंच गईं. नेहा ने बॉलीवुड के कुछ हिट गानों का मैशअप बनाकर साल 2015 में यूट्यूब पर पोस्ट किया था, जिसे अबतक 42 मिलियन व्यूज मिल चुके हैं.