ENGLISH
The film Motichoor Chaknachur is in great discussion these days. Everyone is eagerly waiting for its release due to the tremendous story of the film. Especially for the first time in the film, Aathia Shetty will be seen along with Nawazuddin Siddiqui. The tremendous chemistry of both was seen in the trailer of the film itself. Recently the film's song Battiya Bujha Do was released, in which Sunny Leone was seen with Nawazuddin. Now its another new song is going to be released tomorrow. Its name is how the government will be formed.
In this, Nawazuddin Siddiqui and Athiya Shetty are seen as groom. Also two chairs can also be seen. There is a wedding adorned chair and on the other side is a chair with a flight seat. While posting a teaser video of the song on his Instagram account, Wycom18 Studios has written in the caption – There is only a small compro. Yes, now the Shagun Thali is also ready. Look, whose government will be formed.
The story of the film is quite funny. In this, Nawazuddin is playing the character of 36-year-old Pushpinder Tyagi. At the same time, Aathia will be seen as Anita (Annie). Both are worried about their marriage. But the reason for marrying both is different. Pushpinder is troubled by his growing age, so wants to get married soon. On the other hand, Anita dreams of marrying an NRI and settling abroad. Pushpinder and Anita get married and later Anita realizes that Pushpinder does not work abroad. After this, the tip of the film starts with Jhok and romance. The film is knocking at the box office on 15 November 2019.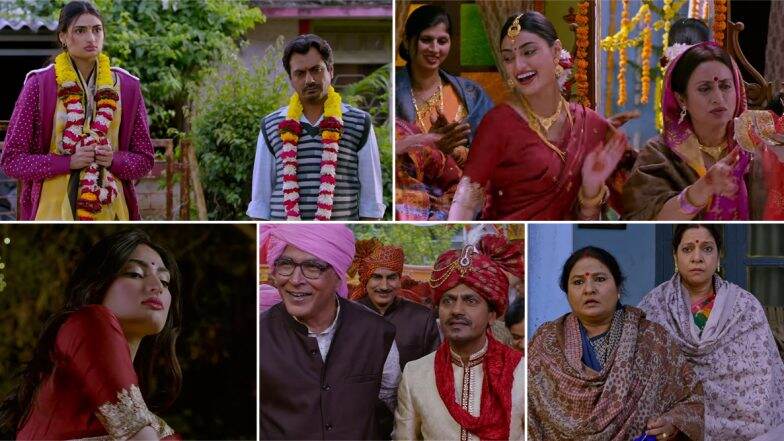 HINDI
नवाजुद्दीन सिद्दीकी और आथिया शेट्टी की फिल्म मोतीचूर चकनाचूर 15 नवंबर को बॉक्स ऑफिस पर दस्तक देने जा रही है. फिल्म की रिलीज से पहले मेकर्स एक-एक कर फैंस को सरप्राइज दे रहे हैं, और फिल्म को लेकर दर्शको के उत्साह को कायम रख रहे हैं. नवाजुद्दीन सिद्दीकी और आथिया शेट्टी की फिल्म मोतीचूर और चकनाचूर की रिलीज में महज आठ दिन बचे हैं, इससे पहले मेकर्स ने फिल्म का नया गाना कैसे बनेगी सरकार को रिलीज किया है.
नवाजुद्दीन सिद्दीकी और आथिया शेट्टी की फिल्म मोतीचूर चकनाचूर के इस नए गाने कैसे बनेगी सरकार को बहुत ही ज्यादा पसंद किया जा रहा है. फिल्म का नया गाना कैसे बनेगी सरकार बहुत ही ज्यादा मजेदार है. मोतीचूर चकनाचूर के इस नए गाने कैसे बनेगी सरकार को रिलीज हुए महज कुछ देर ही हुए हैं, इतने ही देर में 5 हजार के करीब व्यूज मिल चुके हैं. इसी से अंदाजा लगाया जा सकता है कि फैंस नवाजुद्दीन सिद्दीकी और आथिया शेट्टी की फिल्म के इस गाने को कितना पसंद कर रहे हैं.
मोतीचूर और चकनाचूर का ये नया गाना कैसे बनेगी सरकार वर्जिनिटी पर आधारित है. कैसे बनेगी सरकार गाने की शुरूआत होती नवाजुद्दीन सिद्दीकी और आथिया शेट्टी की एंट्री के साथ. बता दें नवाजुद्दीन सिद्दीकी आथिया शेट्टी से शादी करके उन्हें ऑटो से घर लेकर आते हैं, जिसे देखकर नवाजुद्दीन सिद्दीकी के घर वाले चौक जाते हैं. उसके बाद नवाजुद्दीन सिद्दीकी और आथिया शेट्टी की शादी करवाते हैं, गाने में बहुत सारा फन देखने को मिल रहा है.
कैसे बनेगी सरकार गाना सुनने में जितना मजेदार है, उतना ही देखने में भी बहुत ही ज्यादा शानदार है. मोतीचूर चकनाचूर फिल्म में पहली बार नवाजुद्दीन सिद्दीकी और आथिया शेट्टी की जोड़ी बड़े परदे पर नजर आने वाली है. दर्शक इस फिल्म को देखने के लिए काफी उत्साहित इसलिए नजर आ रहे हैं, क्योंकि ऐसी एकदम अलग हट कर जोड़ी बहुत ही कम देखने को मिलती है.