ENGLISH
Madhuri Dixit Nene is all set to mesmerise the audience with her grace and beauty yet again with Abhishek Varman's upcoming film, 'Kalank'. The actress, who will be showing off some of her graceful dance moves in the film, will be portraying the role of 'Bahaar Begum' in the film. While Madhuri has already amazed the audience with her look in the film, she recently took to her Twitter handle to share a new picture of herself from the film which is sure to leave you spell bound. In the photo, Madhuri can be seen striking a royal pose, looking all gorgeous and elegant.
Dressed in a black and gold ethnic wear, she looks absolutely stunning. Her matching jewellers, accessories and poise complement her overall look. 'Kalank' also stars Alia Bhatt, Varun Dhawan, Aditya Roy Kapoor, Sonakshi Sinha, Sanjay Dutt and Kunal Kemmu in pivotal roles. The film is slated to hit the theatres on April 17, 2019.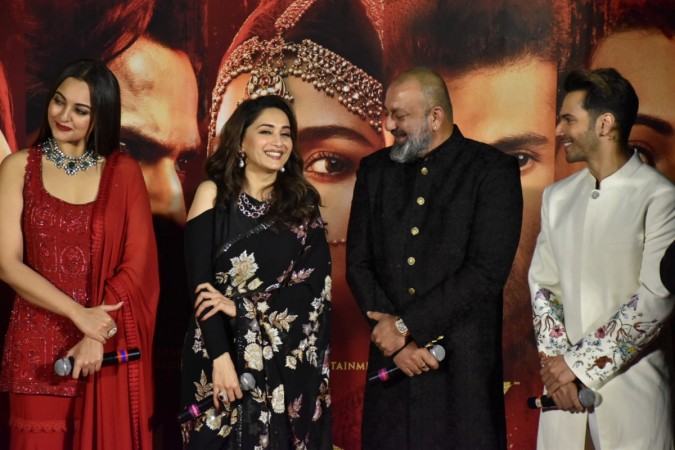 HINDI
करण जोहर के प्रोडक्शन में बन रही फिल्म कलंक को लेकर दर्शको के बीच भारी उत्साह है. फिल्म रिलीज़ के लिए तैयार है. जबसे फिल्म का ट्रेलर रिलीज़ हुआ है. तबसे फिल्म देखने के लिए प्रशंसक बेचैन है. दरअसल ये फिल्म कर्ण जोहर के दिल के बेहद करीब है. इस मल्टीस्टारर फिल्म का प्रमोशन जोरो शोरो से किया गया. फिल्म की कास्ट के कई सारे लुक्स सोशल मीडिया पर शेयर किये गए.इसी क्रम में माधुरी का एक नया लुक सामने आया है.
माधुरी दीक्षित ने अपने ट्विटर अकॉउंट के जरिये फिल्म में से अपना नया लुक साझा किया है. फिल्म का सेट शानदार नज़र आ रहा है. माधुरी ट्रेडिशनल आउटफिट में काफी खूबसूरत लग रही है. रौशनी की जगमगाहट के बीच, माधुरी दीक्षित शाही अंदाज में बैठी हुई है और उनके चेहरे में एक धीमी सी मुस्कुराहट है.
बता दे कि फिल्म में आलिया भट्ट और माधुरी दीक्षित के लुक की काफी चर्चा हो रही है. इसके अलावा फिल्म के भव्य सेट को लेकर भी लोगो के बिच उत्साह है. कलंक के जरिये काफी लम्बे वक्त बाद संजय दत्त और माधुरी दीक्षित की जोड़ी एक साथ रुपहले पर्दे पर नज़र आएगी। दोनों ही कलाकारों ने साथ में फिल्म का प्रमोशन भी किया। आलिया के अपोजिट फिल्म में वरुण धवन है. इसके आलावा सोनाक्षी सिन्हा और आदित्य रॉय कपूर भी फिल्म में अहम रोल प्ले करते नज़र आएंगे।
फिल्म 17 अप्रैल 2019 को रिलीज़ की जाएगी। इसका निर्देशन अभिषेक वर्मन कर रहे है. फिल्म का बजट 80 करोड़ के लगभग का बताया जा रहा है. कलंक के ट्रेलर को काफी पसंद किया गया. इसके गानों को भी दर्शको का अच्छा रेस्पोंस मिल रहा है.