ENGLISH
Kartik Aaryan is currently shooting for Mudassar Aziz's remake of Pati Patni Aur Woh in Lucknow. This morning, he took to his Instagram account to share a sneak-peek of his character, Chintu Tyagi, along with an emotional note.
"#ChintuTyagi… Leaving behind one character… his world and getting into another character is painful yet a fun process. That's the perk of being an actor. You get to live so many lives in one life. #PatiPatniAurWoh," he captioned the picture, in which he is seen sitting at a desk in office.
Kartik revealed in an Instagram post that his character in Pati Patni Aur Woh was a "Smarpit" and Aashiq Mizaj" husband.Bhumi Pednekar will be seen as his wife, while Ananya Panday will play a secretary who turns their lives upside down.
Pati Patni Aur Woh, which released in 1978, was a comical take on extra-marital affairs. The film was produced and directed by BR Chopra, and starred Sanjeev Kumar, Vidya Sinha and Ranjeeta Kaur in the lead roles.
Directed by Mudassar Aziz, the remake of Pati Patni Aur Woh will hit the theatres on December 6 this year.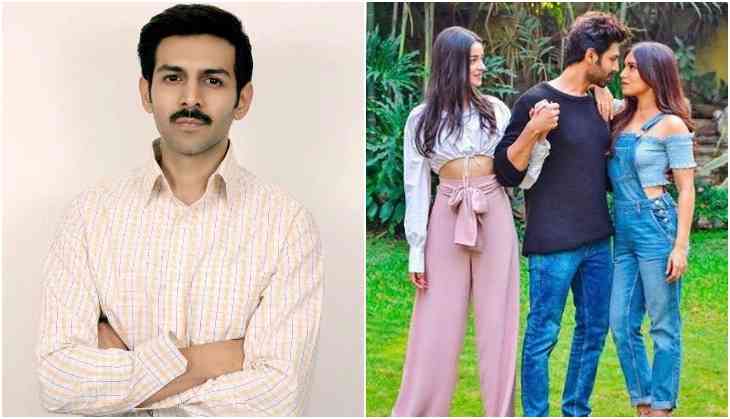 HINDI
बालीवुड के नए स्टार व युवाओं की दिलों की धड़कन कहे जाने वाले अभिनेता कार्तिक आर्यन इन दिनों शहर में संजीव कुमार की फिल्म पति-पत्नी और वो के रीमेक की शूटिंग कर रहे है। उनके साथ फिल्म में अभिनेत्री भूमि पेडनेकर और अनन्या पांडेय भी अहम किरदार निभा रही है।
सोमवार को पति पत्नी और वो की शूटिंग  हजरतगंज स्थित पोस्ट मास्टर जनरल ऑफिस में की जा रही। जिसका डेकोरेशन करके उसको एक सरकारी ऑफिस का रूप दिया गया। सूत्रों के मुताबिक कार्तिक आर्यन इसमें एक सरकारी कर्मचारी का किरदार निभा रहे हैं। फार्मल ड्रेस और मूंछ वाले किरदार में कार्तिक ने ऑफिस के अंदर सीन शूट किए। जिसमें वो फाइलों पर साइन करते नजर आए।