ENGLISH
Tiger Shroff and Hrithik Roshan have started shooting together for their first collaboration. Not just Tiger and Hrithik, this Yash Raj Films' project stars Vaani Kapoor too. The film is expected to have some nail-biting action sequences and dance-offs as promised by the makers. Yet untitled, this project is said to be shot across six different countries and will have the two dance fanatics come face to face with each other. Directed by Sidharth Anand, the film is about the camaraderie between a Guru and Shishya and how it changes when they are pitted against each other. We are eager to watch, what is being deemed as the greatest battle of all times. Aren't you too? Keep watching this space for more updates on the same.
The film is expected to hit the theatres on October 2 next year.
According to reports, Hrithik is expected to play the role of Tiger's mentor in the film. The fact that Tiger considers Hrithik his real-life mentor is not new as the Student of the Year 2 actor has been public about his admiration for Hrithik in the past.
Hrithik is meanwhile busy completing work on his upcoming film, Super 30, which is a biopic of IPS officer Anand Kumar, a maths teacher who co-founded an education program in Patna. The first look of the actor from the film had released earlier.
Tiger Shroff, on the other hand, was last seen in Baaghi 2, which was a huge box office success. He is also working on Karan Johar's Student Of the Year 2, which will also star Tara Sutaria and Ananya Pandey.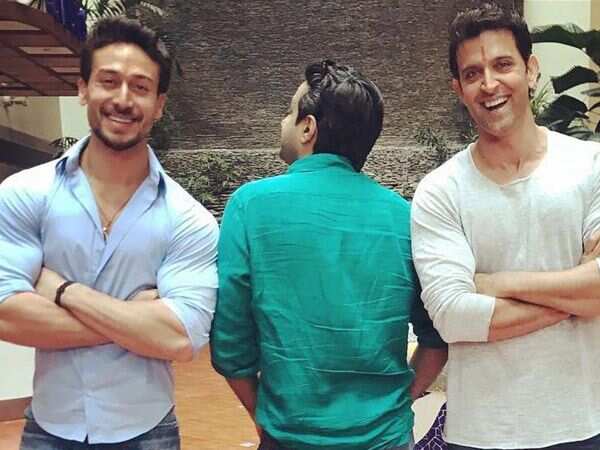 HINDI
ऋतिक रोशन-टाइगर श्रॉफ फिल्म  वर्ष 2019 की एक बॉलीवुड एक्शन ड्रामा है, जिसका निर्देशन सिद्धार्थ आनंद कर रहे हैं। फिल्म में टाइगर श्रॉफ, ऋतिक रोशन और वाणी कपूर प्रमुख किरदार में दिखाई देंगी। बता दें, अभी तक फिल्म का नाम निश्चित नहीं हुआ है, लेकिन फिल्म फ्लोर पर वर्ष 2019 में आएगी।
फैन्स को बहुत दिनों से इंतजार था कि ऋतिक रोशन और टाइगर श्रॉफ एक साथ किसी फिल्म में नजर आए। ऐसे में यशराज बैनर ने उनकी ये ख्वाहिश पूरी कर दी हैं। जी हां, ऋतिक ने ट्विटर पर एक फोटो शेयर इस बात की जानकारी दी है..
बता दें कि ऋतिक रोशन और टाइगर श्रॉफ की आने वाली इस एक्शन फिल्म को लेकर काफी समय पहले ही ऐलान किया गया था, जिसने दर्शकों को काफी उत्साहित कर दिया था। हर कोई इंतजार कर रहा था कि इस फिल्म की शूटिंग शुरू हो और सेट से उनके सामने फिल्म की तस्वीरें आएं।
शेयर की गई इस तस्वीर में ऋतिक रोशन के साथ टाइगर श्रॉफ भी नजर आ रहे हैं और दोनों स्टार्स बहुत ही खिलखिलाकर हंस रहे हैं।
बता दें कि ऋतिक और टाइगर आपस में बेहद अच्छे दोस्त हैं और टाइगर कई बार इस बात को कह चुके हैं कि वह ऋतिक को अपना गुरु मानते हैं। यही वजह है कि टाइगर ने फिल्म इंडस्ट्री में आने का मन बनाया। फिल्म में दोनों का रिश्ता भी कुछ ऐसा ही देखने को मिलेगा। बताया जा रहा है कि फिल्म में टाइगर और ऋतिक गुरू-शिष्य के रूप में दिखाई देंगे।
लेकिन अभी तक फिल्म का नाम क्या होगा इस पर स्थिति साफ नहीं हो सकी है। इस फिल्म को सिद्धार्थ आनंद डायरेक्ट कर रहे हैं। बताया जा रहा है कि फिल्म के अंदर कई एक्शन सीन होंगे जिसमें ऋतिक और टाइगर के कई फाइटिंग सीन भी देखने को मिलेंगे। फिल्म की शूटिंग लोकेशन की बात करें तो भारत के साथ-साथ इटली, जॉर्जिया, पुर्तगाल, आबु-धाबी और स्वीडिन जैसी जगहों पर होगी। फिल्म की एक्ट्रेस फिल्म 'बेफिक्रे' में नजर आईं वाणी कपूर होंगी।