ENGLISH
The motion poster of the Coolie No 1 remake was unveiled on 11 August (Sunday). It features Varun Dhawan, dressed in the iconic crimson and white uniform, hidden behind a stack of luxury brand suitcases. The brief video clip asks, "Guess who is coming?" Sara Ali Khan, who made her debut with Kedarnath, will play the female lead.
The cast and crew began filming in Bangkok, Thailand on 7 August, writer Farhad Samji had shared in an Instagram post. The main posters of the film will be out on 12 August.
The original film, which starred Govinda and Karisma Kapoor in the lead, was directed by Varun's father and filmmaker David Dhawan.
David will also direct the upcoming film, which will be produced by Vashu Bhagnani who bankrolled the 1995 classic. Jackky Bhagnani and Deepshikha Deshmukh will also serve as producers.
Coolie No 1 is expected to hit cinemas on 1 May, 2020.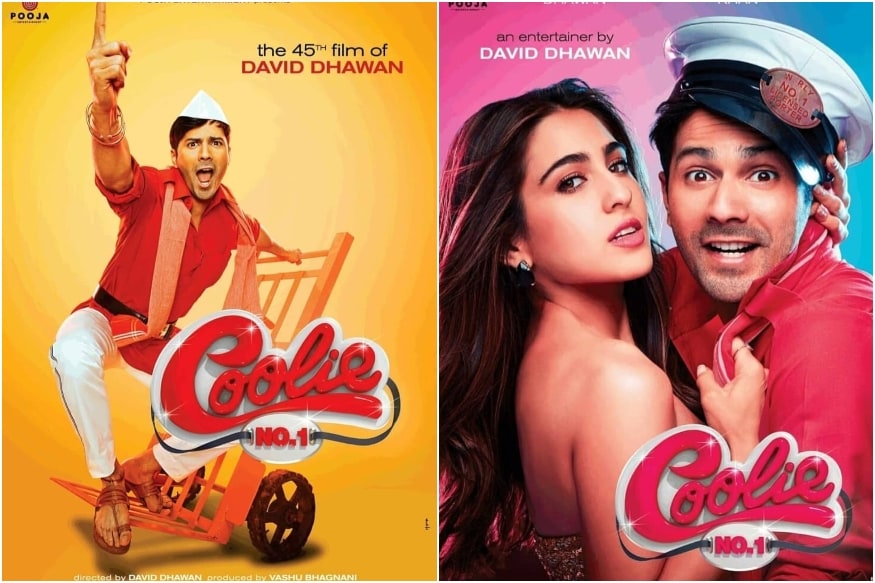 HINDI
डेविड धवन अपनी सुपर हिट फिल्म कुली नंबर वन की रिमेक बना रहे हैं। रविवार को इसका टीजर पोस्टर रिलीज किया गया। इसमें सारा अली खान और वरुण धवन लीड रोल में हैं। फिल्म की शूटिंग शुक्रवार से बैंकॉक में शुरू हो चुकी है।
फिल्म के पहले शेड्यूल की शूटिंग बैंकॉक में शुरू हो चुकी है। इसके प्रोड्यूसर वासु भगनानी, जैकी भगनानी और दीपशिखा देशमुख हैं। ये अगले साल 1 मई को रिलीज होगी। गोविंदा और करिश्मा कपूर स्टारर फिल्म का ओरिजिनल वर्जन 30 जून 1995 को रिलीज हुआ था। इसे भी डेविड धवन ने ही डायरेक्ट किया था। इस कॉमेडी फिल्म में गोविंदा के साथ करिश्मा कपूर, कंचन, कादर खान और सदाशिव अमरापुरकर अहम भूमिका में थे।
खबर है कि इसमें मूल फिल्म का एक गाना 'मैं तो रस्ते जा रहा था' री-क्रिएट किया जाएगा। इसके नए वर्जन को तनिष्क बागची कंपोज करेंगे।
फिल्म की सक्सेस में गाने की रीकॉल वैल्यू बड़ा किरदार निभाती है।