ENGLISH
A new dialogue promo from the highly-awaited upcoming movie Bharat has been dropped online and in case you're somebody who's been looking forward to the Salman Khan, Katrina Kaif starrer, you have got to watch it.
In this new 20 second clip, the promo is quite fun and in this funny promo, Salman Katrina chemistry can be seen. In this promo, Sunil Grover is also seen with Salman. Sharing the promo, Salman wrote, 'Meetha Bhi Teyar Hai Or Hum Bhi'. Ahead of the release of the movie this Eid, this sure is an unmissable glimpse into the film.
The clip ends with Bharat song Aithey Aa being played in the background. Directed by Ali Abbas Zafar, Bharat is an official adaptation of the 2014 South Korean movie Ode To My Father.
Besides Salman and Katrina, Bharat would also see Disha Patani, Sunil Grover, Nora Fatehi, Sonali Kulkarni, Aasif Sheikh, Jackie Shroff and Tabu in important roles. The movie has been bankrolled by Atul Agnihotri, Salman's brother-in-law.
In the second Dialogue promo, The love bug seems to have finally bitten Bharat aka Salman Khan. He is spotting his madam sir in whomever he sees. Until Madam actually appears in front of him.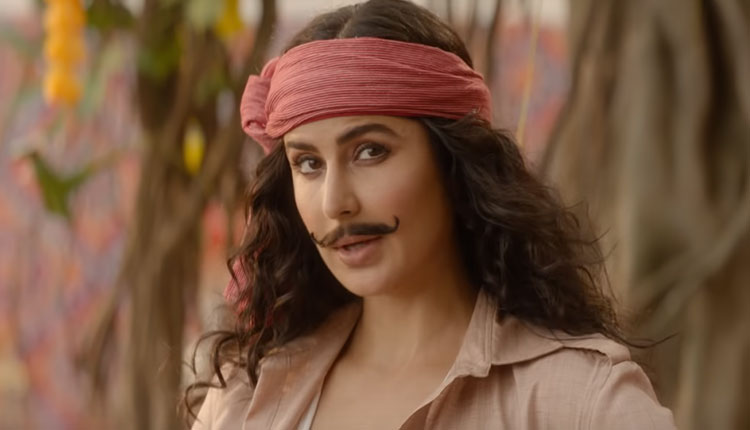 HINDI
सलमान खान और कटरीना कैफ की जोड़ी एक बार फिर 'भारत' में नज़र आने जा रही है. इस फिल्म का ट्रेलर और गाने पहले ही रिलीज़ किये जा चुके है जिन्हे ऑडियंस ने काफी पसंद किया है. इस फिल्म में कटरीना और सलमान 5 अलग अलग लुक्स में नज़र आने वाले है. फिल्म का ट्रेलर देखने के बाद से ही फैन्स इस फिल्म की रिलीज़ का बेसब्री से इंतज़ार कर रहे है.
अब सलमान खान ने अपने इंस्टाग्राम हैंडल से इस फिल्म का एक नया प्रोमो शेयर किया है. प्रोमो काफी मजेदार है और इस मजाकिया प्रोमो में सलमान कटरीना की केमिस्ट्री देखी जा सकती है. इस प्रोमो में सलमान के सात सुनील ग्रोवर भी दिखाई दे रहे है. प्रोमो शेयर करते हुए सलमान ने लिखा 'मीठा भी तैयार है, और हम भी 'इस ईद पर भारत'.'
सलमान खान और कटरीना कैफ के अलावा फिल्म में दिशा पाटनी, सुनील ग्रोवर, जैकी श्रॉफ, तब्बू और नोरा फ़तेही भी प्रमुख भूमिकाओं में दिखाई देंगे। अली अब्बास ज़फर के डायरेक्शन में बनी यह फिल्म ईद के मौके पर 5 जून को रिलीज़ होगी।